Delta Pokemon. Love 'em, hate 'em, make 'em, you can't deny they sure do exist. And with that stellar introduction outta the way, here're like 20 random delta pokemon designs lol.
Starting off, it's δTyrantrum, a big ol' Bug type. This one came up when I was trying to find inspiration by hitting "random page" on wikipedia a bunch. Moths came up a surprising amount. And this δBeedrill design came from the idea of making a counterpart to the Dragon δButterfree from Delta Dump 3.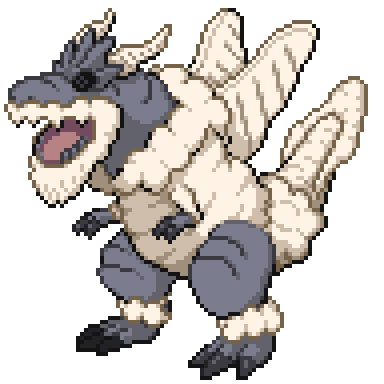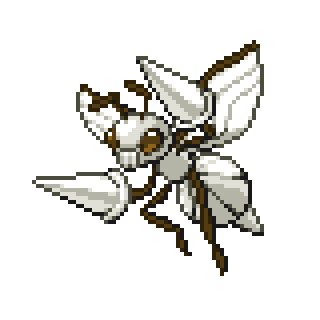 Desk lamp δBellsprout. Electric/Steel is a surprisingly rare type combination. So have a lamp. δCamerupt, meanwhile, is a Grass/Ground type. Very lazy lads n' lasses, δCamerupts are.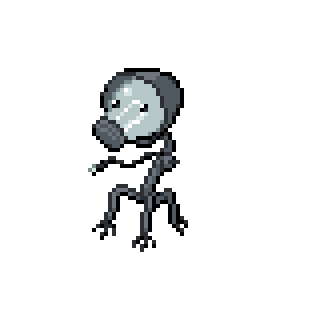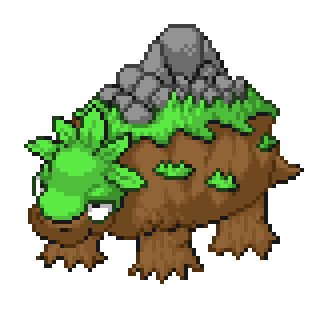 δChimecho is a Grass type, that's for sure. Maybe Rock? Point is, it's a plant pot. δCrawdaunt meanwhile is based on the Hercules Beetle. Now, it's been a minute since I've played Animal Crossing, but I remember these things (they went for a pretty penny). Bug type, if that wasn't obvious.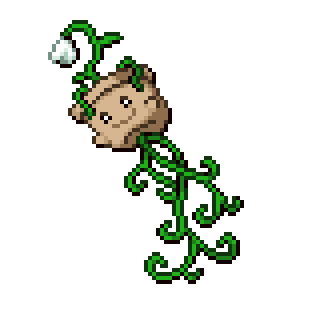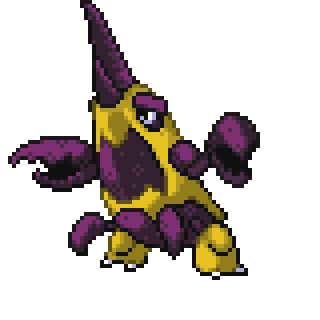 You know what's absolutely fantastic? The fact that our planet is dying and likely already doomed. Ain't that just a hoot? Anyway, here's δLeavanny, seperate from my old δSwadloon design. This one's based on Acid Rain, and is fittingly Water/Poison. Then δManectric is a Ground type pokemon, based on, you guessed it, mountain ranges.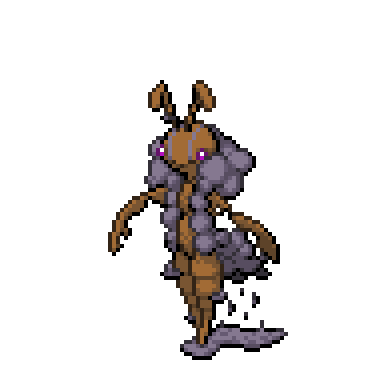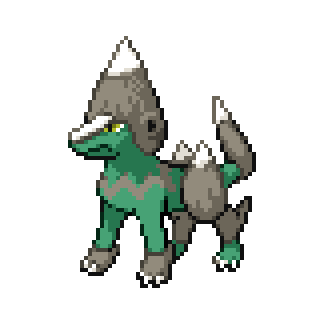 Static electricity δMudkip, with cheeks of Cotton Balls. Electric/Normal I think. Then, my most recent sprite, a Ground type δVolcarona, heavily based on pyramids, and sand, and being Ground type.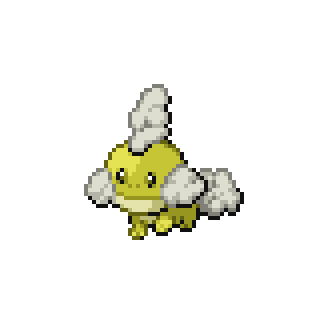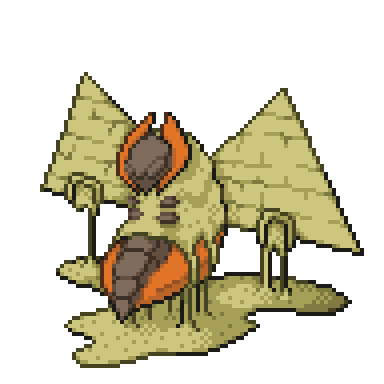 On the left, a Ghost type δOnix. With chains, runes, ghosty aura stuff. Y'know, all the good spooky stuff. And on the right, δSawk, a Moss-covered Golem, a Grass/Rock type.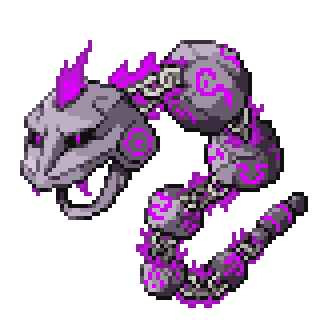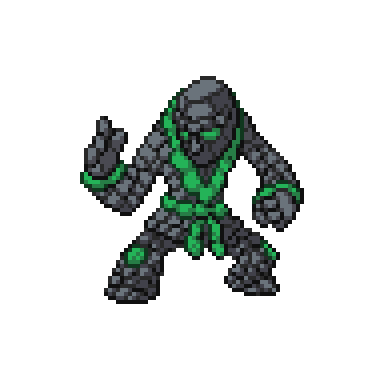 Only a couple more. First, Dragon type δShellder (NOT Shellos apparently). If it keeps Skill Link, Scale Shot'd be kinda funny. Otherwise idk, could do something else. And then a Ground type δSpheal. Fun thing about ground types, it's nearly impossible to make them distinguishable from Rock types without making them sand-based.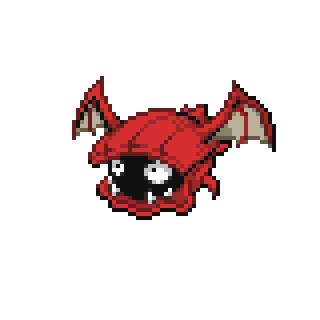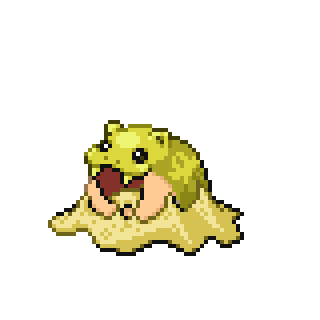 This one's kinda goofy, but I like it that way. Rock type δToxicroak. Look at those silly lookin' boulder eyes. And then, inversely, insane δWatchog. Dark type for sure, maybe some secondary type? Regardless, quite the departure from the usual Watchog.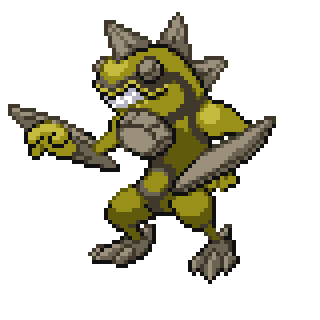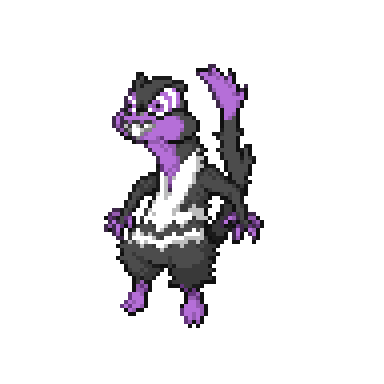 And finally, δSkuntank and δTrubbish. δSkuntank is a normal type, as normal types are tough to do without also making them fairy type. But art is pretty solidly normal type, so here ya go. And then there's Caramel δTrubbish. Look, it's got its own little bow-tie. Adorable.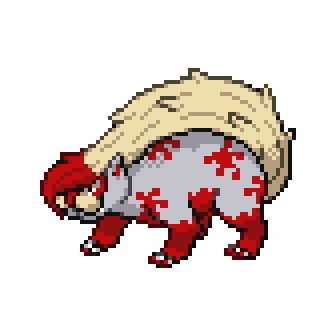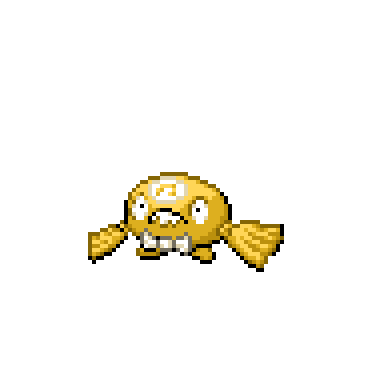 18 deltas. Phew. If I must be honest, some of these are kinda old and would've been in Delta Dump 3 were it not for a few glaring issues. But I touched 'em up, and now they're ready to see the light of day. May revisit some of these designs some day to make evolutions/pre-evolutions (Bellsprout, Onix, Skuntank, Beedrill), but for now I'm enjoying this method of hopping around the pokedex, not burdening myself with doing 2-4 sprites per idea. And I think that's about all for now. Boro Out!