So… bad news first. I'll likely be posting less sprites from this point onwards. BECAUSE (good news) I joined the Epsilon Dev Team. That being said, I still do sprites on the side as a cool-down and because I live for attention. So here's today's titular sprite.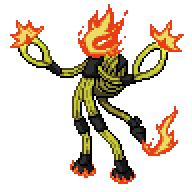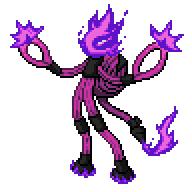 δXurkitree is a Fire type, known as the Crackling Pokemon. It's also, notably, my first recent foray into spriting a unique type of pokemon. Y'know, the UBs, Legendaries, Mythicals. Anyway, its ability would still be Beast Boost.
Its inspiration was uh… that I wanted to sprite fire, and Xurkitree is cool. So I figured, "You know what's cable-like and tangentially related to fire? FIREMAN HOSES."
Yeah, my logic is flawless.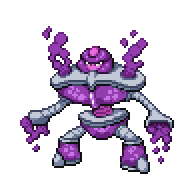 Then here's Poison/Steel δBarbaracle. The Filtration Pokemon, it'd have the ability Poison Touch, and the HA Clear Body. Because we could always use more Poison/Steel delta pokemon :)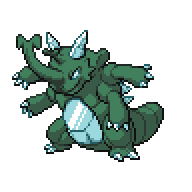 And lastly, δRhydon, Ice/Bug type. So back when I played through P:LA I caught an alpha rhydon at some point. And in doing so I gained a newfound appreciation for its design. Like, holy hell this is a cool pokemon. So then I made it a delta. Abilities are Ice Body, Slush Rush, and an HA of Rough Skin.
So that's all for now. 3 deltas. Feel free to laud me in the comments, but until my next post, Boro Out!