Deltas, some cool, some dangerous, and some have pompadours. But of all the crazy, zany, asinine, wacky, daft, and generally odd things I've made, here is probably my favorite. introducing, Delta Larvitar, Poopytar (Pupitar), Tyranitar, and Mega Tyranitar.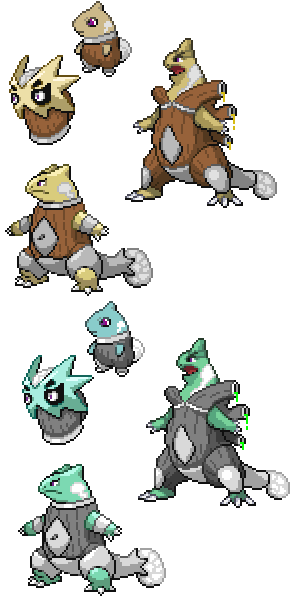 Starting off, we have Delta Larvitar, a drunk babby (I do not condone drinking underage). A Grass/Poison type, this delta has the abilities Tangled Feet, Oblivious, and an HA of Unaware. Delta Larvitar is known for its habit of becoming way too drunk. So drunk it can't even say its own name.
Next up, we have Delta Poopytar (Yes, I will call it this anytime I have to mention it). Delta Poopytar is also a Grass/Poison type. This pokémon's abilities are Oblivious and Harvest, and an HA of Unaware. Poopytar is oblivious to everything at this point in its drunkness. You could drop a piano on it and It wouldn't even feel it.
And somewhat last is Delta Tyranitar, the (still) Grass/Poison type, with the abilities Early Bird, Oblivious and an HA of Unaware. Delta Tyranitar consistently has a hangover, making it always irritated, and just generally in a bad mood. And onto the mega. The mega has a useful ability of Water Absorb. It's a bulky as f*** wall, with access to leech seed, toxic, toxic spikes, and with Water Absorb, it can make a great wall, especially in doubles.
Anyway, that's pretty much it. There's also a radioactive shiny, but whatever, Anyway, Boro Out!