Happy New Year Insurgence community.
I hope everyone's holidays were alright under the circumstances.
I've just come upon an issue.
After weeks of setting up Whipped Dreams, waiting for Midnight, and resetting with a bit of a break up until recently to play another game, I've finally managed to catch a shiny Delta Wooper.
Unfortunately, it has a 0 attack IV which is no bueno so I'm in Samsara cave repeatedly smashing rocks hunting for an IV Stone.
All was well until Delta Wooper leveled up from battles with Rock Smash spawns and evolved.
Now, whenever I transition between areas (i.e enter or exit Samsara Cave), use the Pokemon Center Nurse, evolve a Pokemon or exit a battle, I've been getting the following error: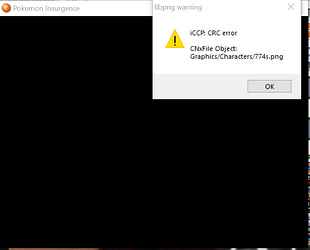 It immediately started at the transition from Delta Wooper, now Delta Quagsire's evolution screen.
Thus far it hasn't crashed the game, the game resumes after a click or two of the 'Ok' button but it's still rather inconvenient and worrying.
What happened here?