This is my current team: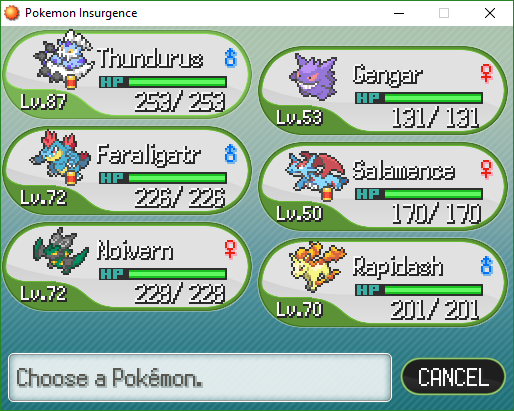 ( Don't mind the levels

I am currently bored of grinding )
Movesets

Thundurus @ Life Orb
Ability: Prankster
Rash Nature

Fly (Cause flying on a legendary is cool! . Should replace with HP )
Thunderbolt
Dark pulse
Focus Blast

Gengar @ Spell Tag
Ability: Levitate
Modest Nature

Shadow ball
Dazzling gleam
Venoshock (To be replaced with sludge bomb)
Focus Blast

Feraligatr @ Leftovers
Ability: Sheer force
Adamant Nature

Aqua Tail (to be replaced with waterfall)
Ice fang
Superpower
Crunch

Salamence @ Salamencite
Ability: Intimidate
Adamant Nature

Double Edge
Dragon Claw ( maybe roost? )
Dragon Dance
Crunch ( to replace with eq )

D-Noivern
Ability: Anticipation
Jolly Nature

Leaf Tornado ( Energy Ball maybe? )
Flash Cannon
Boomburst
Roost

Rapidash
Ability: Flash Fire
Lonely Nature

Flare Blitz
Flame Charge
Bounce
Stomp
I haven't EV trained them yet.
I know the rapidash is useless, but I have it only for the flash fire (and it has been with me since the beginning). I want a better pokemon in place of this Rapidash.
Also, should I keep my D-Noivern? That is my fairy counter. Gengar is only a soft check.
Also, tell me if I have to change the move sets or nature on any pokemon.