Trading Name: SkyMara
Offer: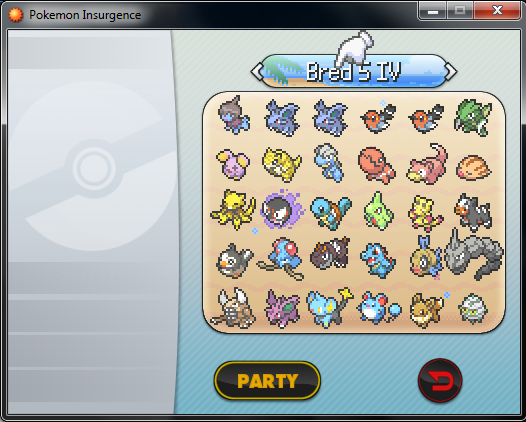 Request: Nothing
Further info:
All Pokémon are Lv. 1.
All Pokémon have 5 IVs (missing a random stat)
All Pokémon have Egg Moves or HM/TMs bred on them, for the exception of Trapinch and Eevee.
No further information about the Pokémon will be given.
This Give-away is free for anyone, even people who got one from the previous Give-away!
How do you request a Pokémon?
You may request a number in between 1 - 30 (horizontal) from the Box. Place your number in the comments below or in general chat on the Insurgence Discord server.
When can we trade?
I can be found on Discord on most days between 11:00 AM CET and 8:30 PM CET. (You may mention me if you see me online)
Can I reserve a Pokémon?
Yes, you can reserve a Pokémon from the Box, but a reserved Pokémon has to be traded in the next 48 hours before the reservation will expire.
Reserved Pokémon:
1 : Taken by Westin (Trade completed!)
2 : Free
3 : Free
4 : Taken by DeltaDragon (Trade completed!)
5 : Taken by Alipro7 (Trade completed!)
6 : Taken by afgh (Trade completed!)
7 : Taken by Jerebere (Trade completed!)
8 : Taken by Spinfur (Trade completed!)
9 : Taken by Embreal (Trade completed)
10 : Taken by SerenityFaithful (Trade completed!)
11 : Taken by Xyleos (Trade completed!)
12 : Taken by MrElmas (Trade completed!)
13 : Reserved for Crimson666 till 10th January 12:00 AM CET
14 : Taken by Milo (Trade completed!)
15 : Taken by Pokemonerd25 (Trade completed!
16 : Taken by HETMANP (Trade completed!)
17 : Taken by Metapodstopls (Trade completed!)
18 : Taken by Cow538 (Trade completed!)
19 : Taken by Emiya (Trade completed!)
20 : Taken by Jaycee (Trade completed!)
21 : Taken by Lautinza (Trade completed!)
22 : Taken by Megastone (Trade completed!)
23 : Taken by Marcocoa (Trade completed!)
24 : Taken by Cheese555 (Trade completed!)
25 : Taken by foxscott1 (Trade completed!)
26 : Taken by kvano01 (Trade completed!)
27 : Taken by justin (Trade completed!)
28 : Taken by Pevori (Trade completed!)
29 : Taken by Dayday (Trade completed!)
30 : Taken by Carnation1 (Trade completed!)