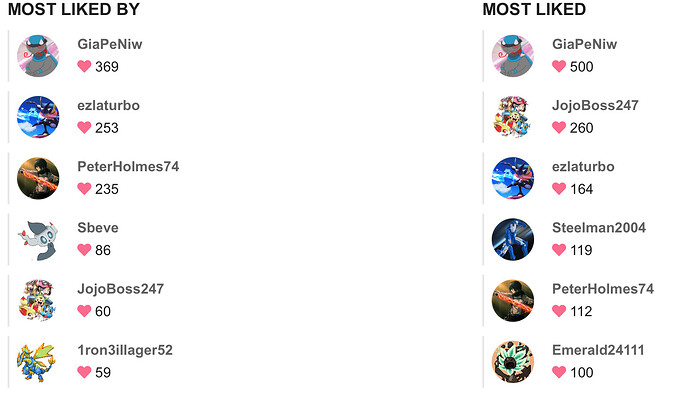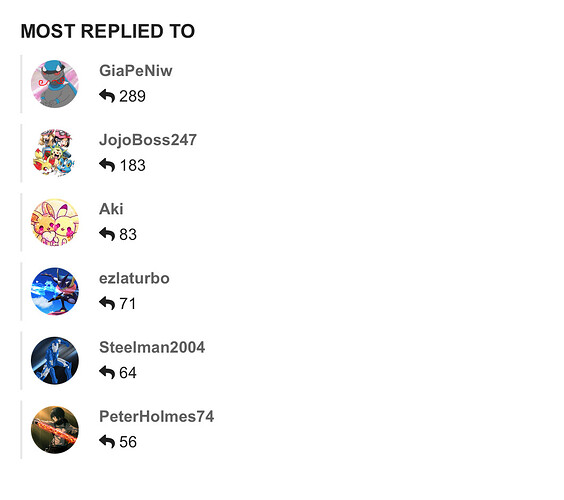 Kekw
@GiaPeNiw and me share a history of keeping each other on our toes lmao
What does that mean? Or have to do with this topic?
Oh hey, look; I'm on there twice. Sorry I'm not on your "Most Liked By" list; I don't really use Likes that much, honestly.
Black is better. End of discussion.
also, uh, how tf do we change it to dark mode
That's a reason I'm not in dark mode¯_(ツ)_/¯
okay please don't bash me
Nvm. Found it. It does look a lot better ngl
Yes forum history does indeed go brr.
Also, I've reached Detroit. Waitin for Chicago flight kekw
See? White is nice and all, but it has nothing on darkness.
…Is it weird the first thing I thought of was "Detroit Smash?"
Anyway, good luck. Hope everything goes smoothly. Knock on wood.
Huh. Accidentally found a new trick.
United States of Smash!
Also, Jojo, Peter, Gia, and I are on all 3.
Also, I've been on the Forums 344/351 days since I created my account. Must be addicted to this place or something…
I've been on 380. So don't worry, you're not the only one.
Thank you for understanding.
I'll logged in every day since my arrival. I am certainly addicted here kekw