---
SPRITES
---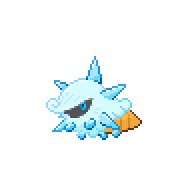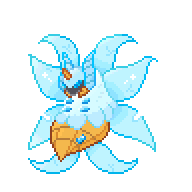 ---
GENERAL IDEAS
---
Larvesta
Type: Pure Ice
Abilities: Ice body, Refrigerate
Hidden Ability: Serene Grace
Dex Entry: A delta pokemon discovered by Dechozen101. When it's ice spikes are retracted, it is often mistaken for a casteliacone, surprising the victim when it extends them.
Volcarona
Type: Pure Ice
Abilities: Confectionary, Refrigerate
*Confectionary is basically Protean, but also changes the appearance and possible other stuff.
Hidden Ability: Serene Grace
Dex Entry: It wraps itself around it's wings and burrows underground to hide as it lures possible prey with it's many sweet scents
---
END CARD
---
Decided to work on another line while avoiding the responsibility of making more back sprites. I still could use some ideas for what to add to volcarona. All I have right now is retaining the color scheme and making the wings a snowflake, but that's subject to change. Give me ideas for the volcarona. As always, feedback is appreciated.
---