I always was a little bummed suicune wasn't an ice type like articuno, which motivated me to make this legendary design.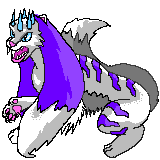 Tazmay
type:ice
ability:snow warning/ snow cloak/ ice cleats?
tazmanian tiger
Pokedex: Ancient carvings suggest this pokemon was once revered, but it is though it worshipers grew angry with it as a struggle is depicted, afterward a new pokemon appears in its place. It is believed exstinct.
This pokemon is revived from a fossil, it flees leaving the scientists' lab a mess in its panic fearing humans.
My feeling is this pokemon was once worshiped, but in time the humans outgrew him as a god seeing offerings and sacrifices as archaic. With lost advanced technology they created its replacement that causes its extinction.