Hi everyone
While waiting for 1.2, I decided to build 2 competitive teams. I built my first team based on some of my favorite mons, and the second is a Delta team.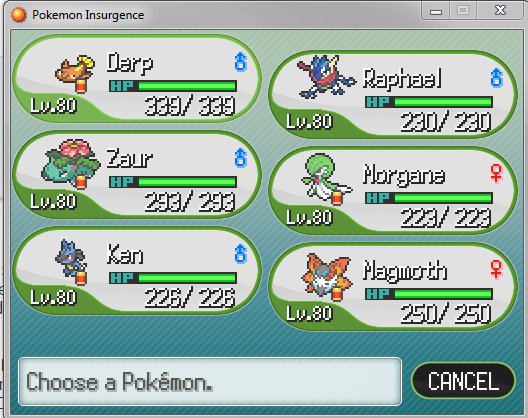 Derp (Stunfisk) - Bold, Static w/Stunfiskite: Earth Power/Thunderbolt/Stealth Rock/Livewire
Raphael (Greninja) - Adamant, Protean: Aerial Ace (will replace with Acrobatics)/Night Slash/Waterfall/Shadow Sneak (will replace with Ice Punch)
Zaur (Venusaur) - Modest, Overgrow w/Black Sludge: Giga Drain/Sludge Bomb/Leech Seed/Sleep Powder
Morgane (Gardevoir) - Timid, Synchronize w/Life Orb: Psyshock/Shadow Ball/Moonblast/Calm Mind
Ken (Lucario) - Jolly, Justified w/Focus Sash: Bullet Punch/Close Combat/Swords Dance/Bone Rush (will replace with Earthquake)
Magmoth (Volcarona) - Modest, Flame Body w/Leftovers: Bug Buzz/Hurricane (will replace with Giga Drain)/Fiery Dance/Quiver Dance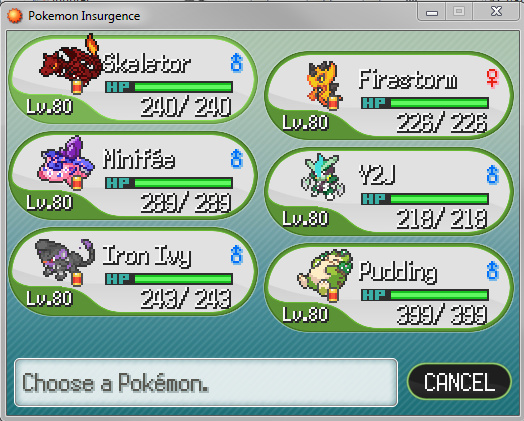 Skeletor (D Charizard) - Timid, Spirit Call w/Delta Charizardite - Shadow Ball/Lunar Canon/Dragon Pulse/Frost Breath
Firestorm (D Frosslass) - Modest, Competitive w/Life Orb: Fiery Dance/Energy Ball/Hyper Voice/Will-O-Wisp
Minifée (D Venusaur) - Modest, Psycho Call w/Leftovers: Psychic/Moonblast/Calm Mind/Leech Seed
Y2J (D Bisharp) - Jolly, Defiant: Acrobatics/High Jump Kick/Bulk Up/Thunder Punch
Iron Ivy (D Luxray) - Adamant, Poison Touch w/Air Balloon: Metal Claw (will replace with Iron Head if possible)/Poison Jab/Crunch/Toxic Spikes
Pudding (D Snorlax) - Careful, Thick Fat w/Leftovers: Leaf Blade/Body Slam/Rest/Sleep Talk
Any comment or suggestion to improve my teams would be much appreciated.
Thanks!