Hey guys!
So, there is nothing wrong with the base game sprite but sometimes I just want to be a pretty girl. So I re-did all of the art assets and I present you with a more feminine version of sprites for the female character.
Features include:
ribbons and flowers
skirts and handbags
no more hair clipping through hats!
art assets line up with each other, so no hats that jump up and down anymore
overall less glitchiness than vanilla sprites
I took the colors directly from other pokemon games so the sprites should fit in flawlessly
clothes were designed so they can be mixed and matched
I also redesigned the icons for each item
in the base game, there is a glitch where sometimes the walking sprite is overlayed with the running sprite. I did my best to mitigate this and make it less noticeable with the way I placed the sprites but some things I just can't make hot
Look at these pretty pictures!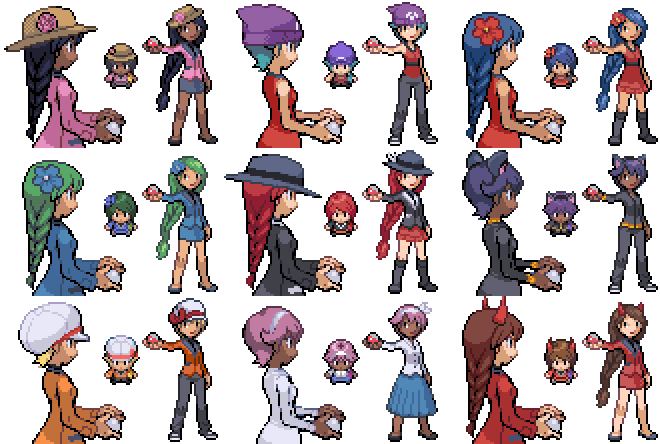 issues:
this ONLY works with the female character. The assets I made will not line up with the male MC sprites. If you choose to install this mod everyone will be wearing skirts because the male MC shares the clothing assets with the female one.
some of the item descriptions are a bit off now. Most are still recognizable but for example pants are skirts now and you just have to pretend that there are flowers called silver and gold crown.
Here is the Download link
I included the gimp files for easier editing. If you want, you can freely edit, update and upload your edits.