V1:


V2: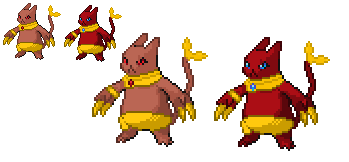 Type: Fighting/Dark
Ability: Blessed desert (Immune to fire attacks and strengthens ground type attacks)
Dex: This is the original form of Zangoose before its fight with Serviper. This pokemon is an incredible hunter and its ears are sharp like horns and can rotate 360 degrees.
Possible moves:
Sucker Punch
Drain punch
Dig
Earthquake
Bulk up
The Set animal!!! this thing was the (possibly) most powerful hunting animal (in egyptian mythololgy) similar to a Jackal with a pointed dual snake tail.