Big sprite :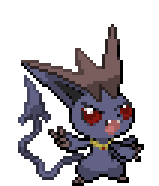 ---
---
Description
---
Delta Victini
---
           Back



---
Types :

Pokédex :
No one know why it keeps wearing this ruby pendant. It painted itself fake eyes behind its head to scare whoever dares surprise it.
Ability : Competitive / Victory Star (I'd like to set Competitive but still Victory Star is its signature ability so Idk)
---
---
Lower page note (I'll copy this to the end of the main post of each delta artwork topic I do, to be sure everyone know) :
I know that the Pokémon Insurgence game is on a feature lock and I know this Pokémon I made won't be added to the game. I made it for myself and just wanted to share it with you all, even if this section is a bit dead by now. Hopefully that you like my work though!
(If you want to leave some comment about it, I'd be glad!)
PS: I made this one on the demand of : Jellehfied
^Babouin'