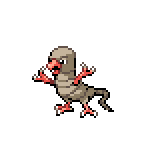 Dragon / Fighting type, inspired by small predatory dinosaurs.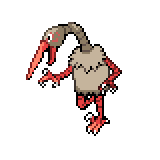 Dragon / Fighting type, inspired by the terror bird and velociraptor.
Abilities: Moxie, Hyper Cutter, Gale Wings (Hidden)
Learnset:
  Twister (1), Peck (1), Fury Attack (1), Leer (1), Karate Chop (5), Pursuit (7), Dragon Rage (10), Power-Up Punch (13), Dragon Breath (17), Dragon Dance (23), Double Kick (28), Dragon Claw (32), Agility (36), Triple Kick (39), Swords Dance (42), Brave Bird (47), Outrage (50)
  Reteach: Dragon Rush, Night Slash, Sky Attack, Dragon Dance, Blaze Kick, and Drill Run
  Egg: Submission, Dragon Claw, Blaze Kick, Sky Attack, Brave Bird, Dragon Rush, Dragon Dance, Fiery Dance, Swords Dance, Phantom Force, Bulk Up, Drakon Voice, Ancient Roar, Drill Run, Drill Peck, Mega Punch, Mega Kick, Flare Blitz, Wild Charge.
  TMs/HMs/Move Tutors: Hone Claws, Dragon Claw, Roar, Toxic, Bulk Up, Hidden Power, Sunny Day, Taunt, Hyper Beam, Protect, Rain Dance, Roost, Safeguard, Frustration, Smack Down, Earthquake, Return, Dig, Brick Break, Double Team, Reflect, Rock Tomb, Aerial Ace, Torment, Facade, Flame Charge, Rest, Attract, Thief, Low Sweep, Round, Echoed Voice, Steel Wing, False Swipe, Fling, Sky Drop, Quash, Will-O-Wisp, Acrobatics, Embargo, Shadow Claw, Payback, Retaliate, Giga Impact, Thunder Wave, Swords Dance, Bulldoze, Rock Slide, Dragon Tail, Poison Jab, Swagger, Sleep Talk, U-Turn, Substitute, Wild Charge, Rock Smash, Secret Power, Power-Up Punch, Confide, Cut, Fly, Strength, Defog, Rock Climb, Draco Meteor, Bind, Snore, Covet, Low Kick, Thunder Punch, Fire Punch, Ice Punch, Drain Punch, Knock Off, Dual Chop, Endeavor, Uproar, Iron Tail, Bounce, Drill Run, Iron Head, Zen Headbutt, Dragon Pulse, Last Resort, Hyper Voice, Foul Play, Outrage, Superpower, Sky Attack, Focus Punch, Block, Helping Hand, Trick, Snatch, Tailwind, Stealth Rock, Draco Jet, Dragonify, Zombie Strike, New Moon, Livewire.

Note: Levels for moves are Fearow's.
Spearow: Raptor Pokemon
Perfection attempted to improve this Pokemon's overall strengths by splicing its DNA with a Tyrunt's.
Fearow: Terror Pokemon
Upon evolution, the final results of Perfection's experiments shine. With its new typing and moves, it proves difficult to contain.