Delta Kabuto/Kabutops


Type: Steel/Bug
Ability: Hard Drive (uses Genesect's Drives to change Normal-type moves to the corresponding type [Burn Drive -> Fire-type, Chill Drive -> Ice-type], does nothing if not equipped with a drive)
Inspiration: Given that Kabutops and Genesect have similar body shapes and come from a similar time (300 million years ago), fans speculate that Genesect is a Cyborg Kabutops, so having the Delta be based on Genesect would be fitting.
-
Delta Omanyte/Omastar


Type: Normal
Ability: Multitype (Arceus signature ability)
Inspiration: All Hail the Helix Fossil
-
Delta Aerodactyl

Type: Ghost/Poison
Abiltiy: Famine (causes all pokemon in battle (including allies in double battles) to eat held berries, even if they don't need to, berries can not be recovered with Recycle or Harvest, also removes the effects of Leftovers)
Inspiration: There was a popular fan-made hack of Pokemon Ruby called Pokemon Snakewood, which involved a zombie invasion made by the Four Horsemen of the Apocalypse in the Hoenn region. I won't go too in depth, but all you need to know is that one of the Four Horsemen, Famine, summons a demon, which is a shiny Aerodactyl, to stop the player. So, a hunger demon Aerodactyl would be pretty cool and a very good reference to this game.
Delta Mega Aerodactyl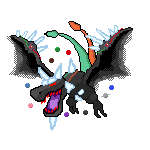 Type: Ghost/Poison
Ability: Final Countdown (applies the effect of Perish Song to all opposing pokemon, however they can't be trapped in battle [shadow tag, mean look, block, ingrain, etc])
Inspiration: Delta Aerodactyl's Mega Evolution pretty much fuses Delta Aerodactyl with a number of the fakemon in Pokemon Snakewood
The two tails - Faceleech
Ice spikes - Luca Zamon
Black smoke wings and solid red eyes - Shaderu
Floating orbs - Madios
Lenses and cables on wings - X32763