https://forums.p-insurgence.com/users/SkyMara wins with his delta Kangaskhan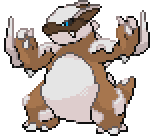 Type:Fighting Steel, Ability: Iron Fist Hidden Ability: Battle Armor
Stats; Hp:100,Atk:100,Def:80,Sp.Atk:20,Sp Def:100,Speed:90
Dex: Every few generations a male Kangaskan is born. it is then given special armor passed down from generation to generation and tasked with defending the group.
This is s a male Kangaskhan and i though the reason we never saw them was because they were rare or because they defend the area from far away like Kommo-o. So I combined the two, and yes i got the idea to add the arm spikes because of shredder from teenage mutant ninja tutrles.