Delta Gligar

Type: Psychic
Ability: Suction Cups / Weak armor (hidden)
Pokedex entry: Delta Gligar's body is covered by crystals that, after trapping their prey, absorb their life force and then use their hollow bodies to find new prey.
Delta Gliscor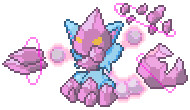 Type: Rock / Psychic
Ability: Suction Cups / Weak Armor / Intimidate (Hidden)
Evolution method: Delta Gliscar evolves to Delta Gliscor if it defeats a Pokemon with an attack powered by a type gem.
Pokedex entry: With the power that the crystals acquire when absorbing the type gem they are able to even force changes in the body of their victim.
Signature move (both): Crystalize (Psychic status move), if it lands the target will lose 5% of their Hp every turn and they won't be able to flee, this status condition cannot be healed.
Delta Carnivine

Type: Poison / Ice
Ability: Poison Point / Intoxicate (Hidden)
Pokedex entry: It has been proven that the flowers on the body of Delta Carnivine need low temperatures in order to develop.
Signature move: Toxic Vine (70 base power physical attack, if the target is weak to grass type this move's base power increases to 100 instead.)
I hope you like them, and feel free to tell me how to improve my sprites / descriptions.