Wow, what a surprise, a delta from Boro! That's never happened before. Anyway, here's delta Carracosta, the World Turtle pokémon. This delta's got multiple formes
(Something I enjoy doing. Go check out this one). Anyway, here's the real reason you guys come to these posts.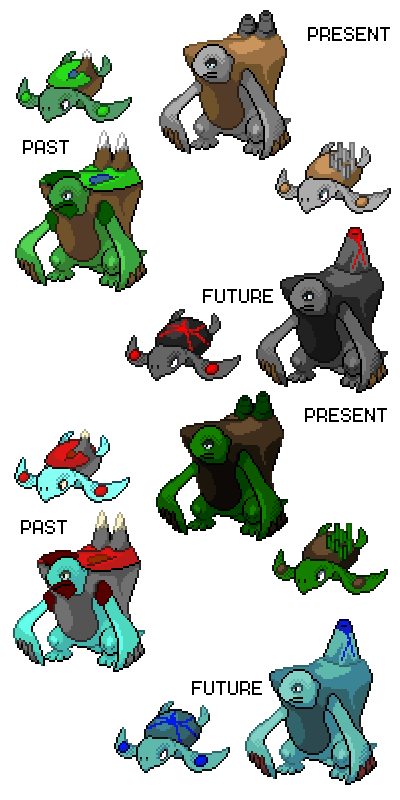 Their formes function similarly to burmy, changing depending on where you battle with it. For instance, a city is the present forme trigger (and secret bases too). Underground places are for future forme, and generally everywhere else is past forme. As for typing,
Past Forme: Grass/Rock Abilities: Leech Body (All physical attacks against this pokemon have a 20% chance to seed the attacker.)
Present Forme: Steel/Rock Abilities: Rock Body (Same as Leech Body, but with setting up stealth rocks)
Future Forme: Fire/Rock (I really dislike having to make it Fire/Rock. Fire/Rock deltas are overdone.) Abilities: Flame Body
And that's pretty much it.
"But what about dex entr-"
Nope, that's it.
"You didn't explain the shiny insp-"
Shut up. That's all I feel like doing. Boro Out!
Edit: After receiving a very serious threat of someone not liking my post, I have deliberated, and decided to explain the shinies.
K, so, it's a bit convoluted, but the main inspiration is kinda Avatar:TLA.
Past is fire bending, with red from fire, and blue from lightning.
Present is earth bending, with the Earth Kingdom's green and blue color scheme.
Future is water bending with ice n' water n' shiz.
It's meant to be a really convoluted relation to the Lion Turtles.