Delta Sableye



Type: Grass/Fairy
Mega Delta Sableye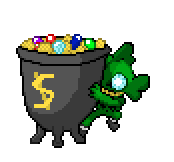 Type: Grass/Fairy
I like it, except for the mega's pot. Hop boy, you need to clean that thing up. It needs selective shading, the $ looks really off, the rim is oddly thinning towards the back, and the outlining, along with the anti aliasing, could be improved. Love the rest, though.
you should change the $ sign into a PokeDollar sign
Please don't necro dead posts. The last comment was 7 months ago.
Than this thread should be closed! I wasn´t in this forum 7 months ago. I liked this sprite and wanted to comment it. Am I not allowed to do so?
I mean you can but I'd prefer if you didn't. It's reviving and creating a discussion on a dead thread. Plus, the artist, Skurleton, is no longer uses the forums and is barely active on the discord.
better be caught holding a nugget or lucky charms
This is necro-posting. After approximately 4 days, and no one has replied, it is considered necro-posting and everyone get's pinged, everyone that has replied to this thread. Like seriously, take a hint.
I guess Pay Day should be his signature skill

Zack, you are necro-posting.