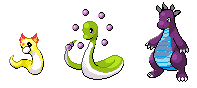 Dratini
Typing:Fire/Normal
Dex Entry:This pokemon was designed by scientists to see how different a pokemon's type was able to change when evolving.They prepared pre-set typings for it.
Dragonair
Typing:Physic/Poison
Dex entry: After evolving,it becomes physic and poison type.When it has too much poison,it evolves.The 6 jewels around it are precious stones,but it can't be touched as it will move when trying to touch it. It only allows trusted people to touch the gemstones.
Dragonite
Type:Dark/Steel
Dex entry:Due to too much poison,it changes 4 jewels to steel and the last two dissolve in the acid. It changes to dark type as well. It is known to attack people using its horns,both for fun and anger.